Granola Cereal Recipe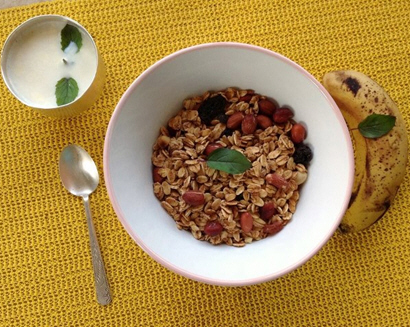 Ingredients
• 4 cups old-fashioned oats
• 1 1/2 cup sliced almonds (or any nuts you want)
• 1/2 cup packed light brown sugar
• 1/2 teaspoon salt
• 1/2 teaspoon ground cinnamon
• 1/4 cup ghee
• 1 1/2 cup raisins or dried coconut (or any dried fruit you want)
Preparation
1. Preheat oven to 300 degrees F.
2. In a bowl mix the oats, almonds, brown sugar, ghee, salt, nuts of choice and cinnamon.
3. Stir gently with a wooden spoon; finish mixing by hand. Spread granola in a 15×10 inch baking pan.
4. Bake 40 minutes, stirring carefully every 10 minutes. Transfer granola-filled pan to a rack to cool completely. Then stir in your dried fruit. Offer to Krishna!
5. Seal granola in an airtight container. Store at room temperature for 1 week or in the freezer for 3 months.
By Bhaktin Christina
Source : https://www.facebook.com/KrsnasTreatsAndInspiringIdeas