Khichari-2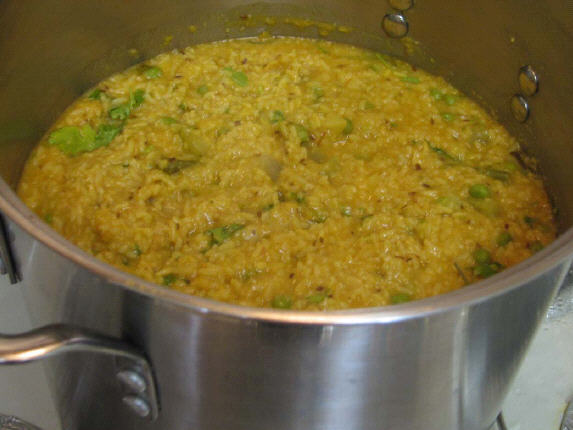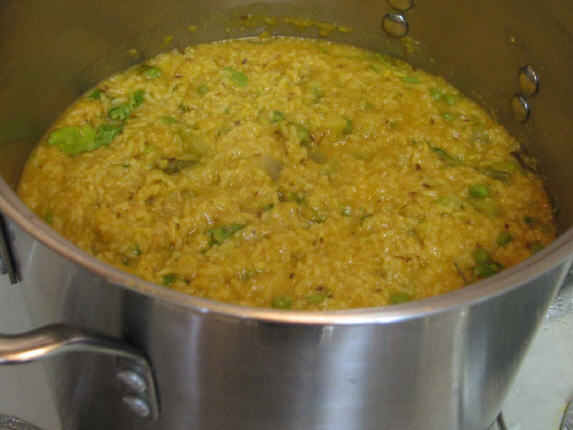 Ingredients
•1/3 C yellow split moong dal
•1 C rice
•3 Tbsp ghee
•1 Tsp cumin seeds
•2 Tbsp minced ginger
•1 green chili chopped
•8-9 fresh curry leaves
•2 Tsp coriander powder
•1 Tsp paprika powder
•2 C summer squash peeled and cubed (louki or zucchini)
•1 C peeled and cubed potatoes
•1 C green beans
•1 C carrot shredded
•1 Tsp turmeric powder
•5-6 C water
•2 Tsp salt
•2 Tbsp chopped fresh coriander leaves
1.Wash and drain the rice and dal.
2.Heat ghee in a heavy saucepan; add cumin seeds, when it darkens a little, add ginger and chili. Add the coriander and paprika powder and saute the spices for a few seconds.
3.Add the vegetables, rice, dal and turmeric. Stir fry for 2-3 minutes. Add the water and salt. Bring it to a boil, then reduce the heat, cover partially, stirring occasionally cook until the vegetables, rice and dal are soft. (Alternately you may pressure cook the khichari)
4.Add the coriander leaves. If the Khichari dries up, you may add some more warm water according to the consistency needed.
5.Serve hot with an extra dollop of ghee.
4
By Anand Lila Devi Dasi