Mishti Dohi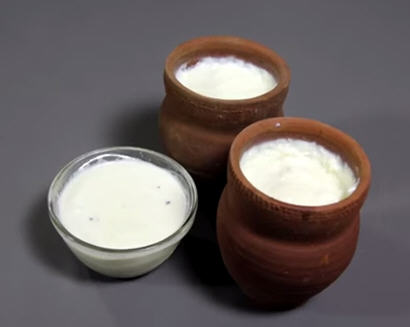 Ingredients
. Milk (full cream) – 1 liter
. Green Cardamom – 4
. Curd – 3-4 tbsp
. Sugar – 100 grms (1/2 cup)
Preparation
1. First boil the milk till it thickens.
2. Make a powder of cardamom.
3. Keep boiling the milk on medium flame. It is important to keep stirring the milk otherwise it can burn.
4. The milk is ready for use only when half of the actual quantity remains.
5. Now add half of the sugar and cardamom powder to the bowl.
6. Mix the remaining sugar ater caramelizing it. Take a bowl and put sugar in it. The bowl should have a heavy base. Turn on the flame keep mixing the sugar.
7. When the sugar starts melting keep stirring it continuosly.
8. Once the sugar is completely melted, turn off the flame.
9. Now add the caramelized sugar to the milk and mix thoroughly. Let the caramelized sugar dissolve completely.
10. We will freeze them in a mud kulhad.
11. Mishti Dohi is very tasty and smells great when served in a mud kulhad.
12. Add the milk in a mud kulhad. The milk should not be extremely hot or extremely cold.
13. Now add 2 tbsp curd on top of it. Mix it well.
14. Cover the kulhads and keep them in a warm place. The mishti dohi will curdle in 10-12 hrs.
15. Mishti dohi is ready.
By Bhaktin Archana