Pear Chutney with Dates and Pecans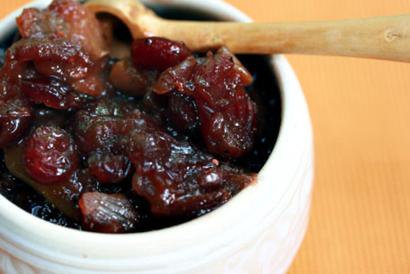 While residing in the vale of Evesham, I had the opportunity to sample some of England's best produce. Every day for weeks on end I took on the challenge of coming up with a different cooked chutney, and in due course this recipe emerged from the test kitchen as everyone's favorite.
Preparation and cooking time (after assembling ingredients): about 1 hour
Ingredients
• Crushed dried red chilies – ¼ – ½ teaspoon (1-2 ml)
• Scraped, finely shredded or minced fresh ginger root – 1 table spoon (15 ml)
• Grated orange zest – ½ table spoon (7 ml)
• Crushed cardamom seeds – ¼ teaspoon (1 ml)
• Cinnamon stick –  2-inch (5 cm) piece
• Ghee or unsalted butter – 2 table spoons (30 ml)
• Fresh orange juice – ½ cup (120 ml)
• Maple sugar or brown sugar, packed –
• Bosc pears (about 2 ½ pounds/1.5 kg), peeled, quartered, cored and cut crosswire into 1/3 –inch (1 cm) slices – 6-7 medium-sized
• Pitted soft dates, snipped into 1/3-inch (1 cm) pieces – ½ cup (95 g)
• Chopped toasted pecans – 1/3 cup (40 g)
Preparation
1. Combine the red chilies, ginger, orange zest, cardamom seeds and cinnamon on a saucer. Place the ghee or butter in a 3-quart/liter saucepan over low heat. Before the ghee is hot or the butter froths, add the combined spices. Fry for 1-2 minutes to release flavors. Add the orange juice and sugar, and stir until the sugar dissolves. Stir in the pears, bring to a gentle boil, and cook until syrupy and thick, about 30 minutes. Stir often during the last 5 minutes to prevent scorching.
2. Remove the pan from the heat, stir in the dates and pecans, and cool to room temperature. Serve, or cover and refrigerate for 3-4 days.
Makes
About 1 ½ cups (360 ml)
By Yamuna Devi Dasi