Savory Butter Crackers with Lemon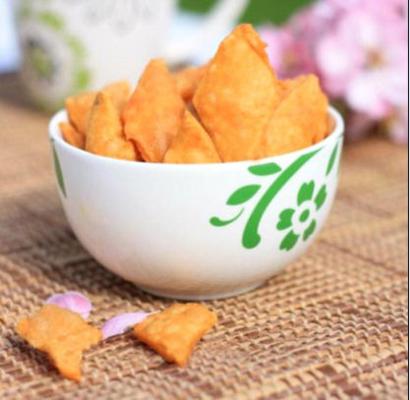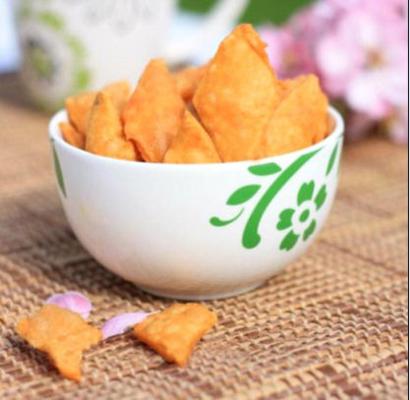 In Bengal, there are two types of gaja: salty and sweet. Within these two types, several shapes and flavors are possible: poppy seed cubes, sesame seed oblongs, kalonji curls and this variation: lemon zest diamonds. These crackers are somewhat crumbly, with a faintly sour taste. They are a much-loved delicacy throughout Orissa and Bengal, popular at late afternoon tiffin with contrasting sweet gaja and tropical fresh fruits.
Preparation and resting time (after assembling ingredients): 45 minutes
Cooking time: 50 minutes
Ingredients
• Unbleached white flour – 2 cups (235 g)
• Salt – 1 ¼ teaspoons (6 ml)
• Baking soda – 1/8 teaspoon (0.5 ml)
• Finely grated lemon zest – ½ teaspoon (2 ml)
• Unsalted butter, chilled and cut into small pieces – 4 ½ tablespoons (67 ml)
• Cold yogurt, stirred until smooth – 2 tablespoons (30 ml)
• Ice water – 1 tablespoon (15 ml)
• Strained fresh lemon juice – ¼ cup (60 ml)
• Ghee or vegetable oil for deep-frying
Preparation
1. Place the flour, salt, baking soda and lemon zest in a large bowl and mix well. Add the butter and rub between your palms until the texture resembles coarse bread crumbs. Blend the yogurt, ice water and lemon juice and pour slowly into flour until the dough can be gathered into a shaggy mass. Knead for only 2-3 minutes.
2. Alternatively, fit a food processor with the metal blade. Place the flour, salt, and baking soda in the processor bowl and pulse 6 times. Add the lemon zest and butter and process for one minute or until the mixture resembles fine breadcrumbs. Blend the yogurt with the water, and while the machine is running, slowly pour in the liquid and process until the consistency is the size of peas. Do not allow a ball of dough to form. Gather the dough into a ball by hand and cover it with a damp towel or plastic wrap. Set aside for at least ½ hour.
3. Divide the dough into 5 balls. Cover 4 balls with a damp towel and roll the remaining one out on a lightly floured work surface into a 7-inch (17.5 cm) round. With a sharp knife, cut into diamond shapes cutting across from east to west into 1-inch (2.5 cm) strips, then on the diagonal, from northeast to southwest, in 2-inch (5 cm)strips. This will form diamonds about 1 inch (2.5 cm) wide and 2 inches (5 cm) long. Prick the diamonds with a fork at 1-inch (2.5 cm) intervals and remove any small scraps of dough. Roll the scraps into a final ball of dough.
4. Pour ghee or oil to a depth of 2 inches (5 cm) into a karai or deep-frying pan and place it over moderate heat. When the temperature reaches 320 F (160 C), slip in all of the crackers. Fry, maintaining the heat at between 310-320 F (155-160 C). for about 5 minutes on each side or until they are pale gold (not brown) and crispy. Remove with a slotted spoon and drain on paper towels. Roll out, cut and fry the remaining dough in the same way. Can be kept, well sealed, for 2-3 weeks.
Makes
about 60 gajas
By Yamuna Devi Dasi