Shredded cucumbers in Smooth Mint-Flavored Yogurt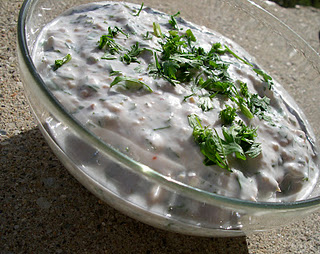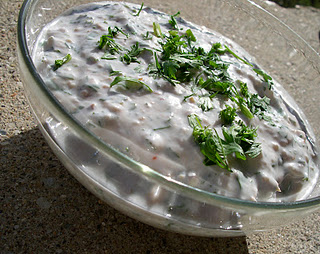 There are so many ways to make this, India's most popular raita, that I am presenting two of my favorite recipe variations. In this one, we discover how mint and cucumbers were made for each other. With a touch of lemon or lime zest, you have one of the most refreshing salads possible. Though avocado oil is not available in India, I find it perfect for delicate salads and raitas. You must use crisp, seedless young cucumbers. If all you can find are overgrown, out-of-season giants, seed them before shredding. This makes a terrific cold rice salad: simply fold it into room-temperature or chilled cooked rice.
Preparation time (after assembling ingredients): about 30 minutes
Chilling time: 1-2 hours
Ingredients
• Cucumbers (about 1 pound/455g) – 2 medium-sized
• Salt – ½ table spoon (7 ml)
• Plain yogurt – 1 ½ cups (360 ml) or plain yogurt – 1 ¼ cups (300 ml) and sour cream – ¼ cup (60 ml)
• Cayenne pepper or paprika – ¼ teaspoon (1 ml)
• Finely chopped fresh mint – 2 table spoons (30 ml)
• Grated lemon or lime zest – 1 teaspoon (5 ml)
• Avocado or sesame oil – 2 table spoons (30 ml)
• Black mustard seeds – 1 teaspoon (5 ml)
• Cucumber flowers and paprika for garnishing
Preparation
1. Peel and coarsely shred the cucumbers, then place them in a bowl. Sprinkle with salt and toss. Let the cucumbers sit at room temperature for 20-30 minutes. Pour them into a strainer, press out the liquid, then pat them dry with paper towels.
2. Place the yogurt or yogurt-sour cream mixture, cayenne or paprika, mint and citrus zest in a 1-quart/liter bowl and whisk with a fork until smooth and creamy. Stir in the cucumbers. Heat the oil over moderate heat in a small pan. When it is hot but not smoking, add the mustard seeds. Fry until the seeds sputter and turn gray (if the oil is very hot, you may need to use a spatter screen to keep the seeds from jumping out of the small pan). Pour the fried seeds and oil into the cucumber-yogurt mixture, and stir to blend.
3. Refrigerate for 1-2 hours to allow the mint and seasoning to release their flavors. Serve with a garnish of twisted cucumber flowers and a sprinkle of paprika.
By Yamuna Devi Dasi