Shredded mango and Coconut Chutney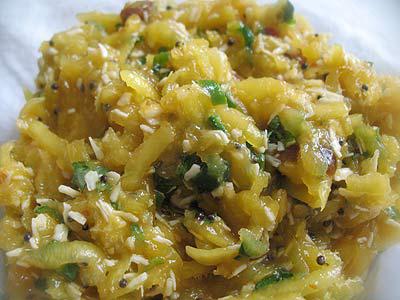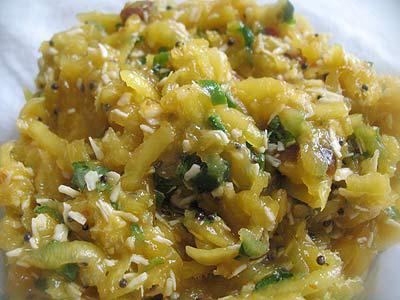 Green mango makes delicious raw or cooled raw or cooked chutney. In this much loved South Indian variation, the rock-hard type is preferred. On the other hand, in the North fruit just short of ripe is favored. Use whatever is to your liking and convenient. The peppery orange-lime dressing beautifully sets off the near tart mango and sweet coconut –dried fruit mixture. This textured, nearly raw chutney has a character similar to kachambers and makes a pleasant contrast for soups, dals or stews. It is best assembled at least ½ hour before serving.
Preparation time (after assembling ingredients): 2-3 hours
Ingredients
• Firm unripe mangoes (about 2 pounds/1 kg) – 2 medium-sized
• Dried or fresh coconut ribbons – ¼ cup (25 g)
• Diced dried fruit, such as papaya or apricot – 1 table spoon (15 ml)
• Orange and lime juice – 1 table spoon (15 ml) each
• Salt – ½ teaspoon (2 ml)
• Cayenne pepper or paprika – 1/8 teaspoon (0.5 ml)
• Hot green chilies, halved, seeded and silvered – 1-2
• Sesame or coconut oil – 2 table spoons (30 ml)
• Black mustard seeds – 1 teaspoon (5 ml)
• Finely chopped fresh coriander – 2 table spoons (30 ml)
Preparation
1. Peel the mangos with a vegetable peeler or paring knife. Coarsely shred the fruit and discard the seed. Combine the mangoes with the coconut, dried fruit, juices, salt, cayenne or paprika and green chilies in a serving bowl, gently toss, cover, and marinate for ½ hour. It cab be refrigerated for up to 6 hours before serving.
2. Heat the oil in a small pan over moderate heat until hot but not smoking. Drop in the black mustard seeds and fry until they turn gray and sputter (keep a lid handy to catch flying seeds). Pour the chaunk into the salad, add the fresh coriander, toss to mix, and serve.
Makes
About 1 ¼ cups (360 ml)By Yamuna Devi Dasi