Spaghetti Pie with Paneer Crust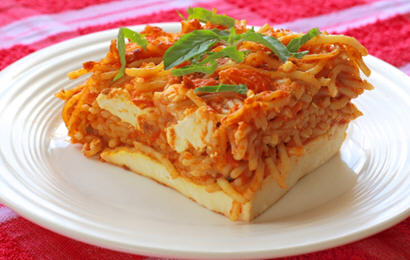 Ingredients
. 200 grams spaghetti pasta
. 1/2 pound paneer
. 7 small tomatoes
. 1 or 2 green chile
. 1 tbsp fresh herbs (I used rosemary, oregano and sage)
. 1 small carrot
. 1 tbsp ghee
. 1 1/2 tsp salt
. 1/4 tsp pepper
. 1/2 tsp ginger powder
. 1/2 tsp chili powder
. 1/4 tsp hing
. 1/4 tsp turmeric
. 1 tbsp brown sugar
. 1/2 cup cream
. 1 1/2 tbsp flour (white, wheat or besan)
. 3/4 cup yogurt cheese
. fresh basil
Preparation
1. First bring a large pot of salted water to a boil and add the pasta. Cook the pasta only for 8 minutes. It is ok that the pasta is not done fully because we are going to bake it later.
2. Next place all the tomatoes in the blender.
3. Blend until smooth.
4. Chop up your choice herbs. I used fresh rosemary, oregano and sage.
5. Chop up the carrot.
6. Next heat 1 tbsp of ghee in a pot on medium high flame. Add the fresh herbs and fry for 30 seconds.
7. Then immediately add the chopped carrots and fry for an additional minute.
8. Next add the blended tomato sauce and dry spices and sugar. Cook for about 15 minutes. You will notice the sauce will thicken and you know it is done. Turn flame off.
9. Oil generously your baking dish with ghee.
10. Then chop up the paneer in a shape that will form a crust on the bottom of the baking pan. You can make it as thick as you like.
11. Then strategically lay the paneer so that it covers the bottom of the whole baking dish.
12. Preheat oven to 180C/350F. In a small saucepan add the cream and cook on medium flame for about 1 minute until it heats up.
13. Then add the flour. Use a whisk and constantly stir the mixture.
14. In a very short time you will begin to notice that the cream and flour is thickening and separating from the pan.
15. Now take a spoon full of tomato sauce and place in the mixture.
16. Be sure to constantly keep stirring.
17. Continue to add a spoonful of sauce at a time and mixing until you have no more sauce.
18. Next immediately add the mixture to the cooked pasta.
19. Add the crumbled yogurt cheese
20. Mix it all up and pour on top of the paneer in the baking dish. Bake uncovered for 1 hour.
21. Now you are ready to Serve
By Bhaktin Christina
Source: http://www.krsnastreats.org/recipes/entrees/item/spaghetti-pie-with-paneer-crust