Tomatoes in Smooth Yogurt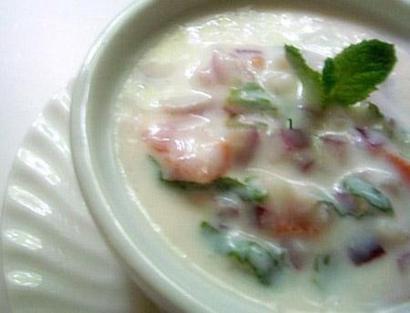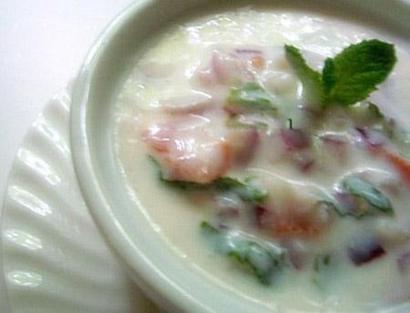 Tomato is probably the most popular raita selection in India, vying for first position with cucumber. It is simple, unadorned refreshment, with each region having its own slight nuance in seasoning. The contrast between the brilliant red tomatoes and the snowy yogurt is vivid and appealing. To take advantage of the colors, use firm-fleshed or seeded tomatoes. I like to use marble-sized cherry or sugar-lump tomatoes, cut into quarters. You can use either fresh coriander, basil or drill for a garnish –a single leaf or feathery 1/2 – inch (1.5 cm) pieces of dill.
Preparation and cooking time (after assembling ingredients): 10 minutes
Ingredients
• Plain yogurt – 2 cups (480 ml) , or Yogurt – 1 2/3 cups (400 ml)
and sour cream – 1/3 cup (80 ml)
• Salt – 3/4 teaspoon (3.5 ml)
• White pepper – 1/8 teaspoon (0.5 ml)
• Firm ripe tomatoes or cherry tomatoes (about 1 pound / 455 g),
stems removed – 3-4 medium-sized
• Vvegetable or peanut oil – 1 table spoon (15 ml)
• Black mustard seeds – 1 teaspoon (5 ml)
• Hot green chili, seeded and finely minced (or as desired) – 1
• Sprigs fresh coriander, basil or dill for garnishing – 1-2
Preparation
1. Combine the yogurt or yogurt and sour cream, salt and pepper in a 1-quart / liter bowl. Whisk with a fork until smooth and creamy. Wash and dry the tomatoes and cut into 1/2 inch (1.5 cm) cubes, or quarter the cherry tomatoes; drop into the yogurt mixture, without stirring. The mixture can be covered and refrigerated for several hours of assembled at room temperature.

2. Heat the oil in a small pan over moderate heat. When it is hot but not smoking, add the mustard seeds and green chili and fry until the seeds crackle and turn gray. Pour into the salad and gently blend. Serve immediately, garnishing with fresh herb sprigs.
Serves
4 to 6
By Yamuna Devi Dasi