Tomato Soup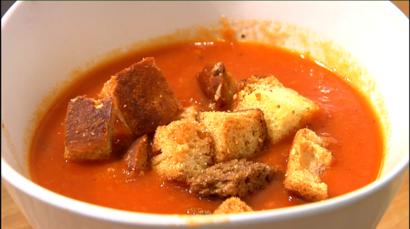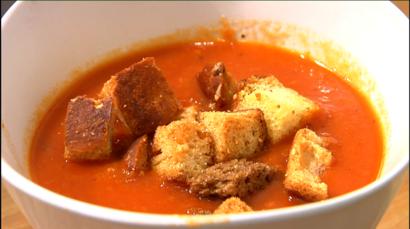 Ingredients
• Tomatoes – 1 ½ kilo
• Pepper powder – 1 tsp
• Salt – as required
• Water
• Milk – 1 ½ cup
• Corn flour – 1 tsp
• Butter – 1 tsp
• Cream – 100 gms
• Fried bread pieces
Preparation
1. Cut tomatoes and add 7 cups of water.
2. Pressure cook for 2 whistles, then cook boiled tomatoes for 5 minutes on a low heat.
3. Cool and strain through a fine shift.
4. Melt butter in a frying pan and add soup to it.
5. Dissolve corn flour in milk and add to the soup.
6. Boil for 10 minutes. Remove from the gas and add pepper and salt.
7. When serving, add fried bread pieces.
8. Churn the cream and add one tsp of cream in each bowl.
*Note: Soup can be served without cream also.
Serves
5-6 Persons
By Bhaktin Ranjana