Vasudev Krishna-Vegan Carrob Cake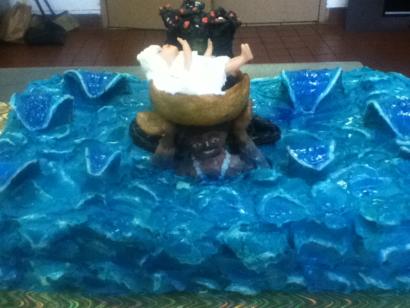 Ingredients
• Self raising flour – 3 cups
• Sugar – 2 cups
• Soda – 1 ½ tsp
• Salt – ½ tsp
• Carob powder – ½ cup
• Oil – ¾ cup
• Vanilla essence – 1 tsp
• Vinegar – 2 tsp
• Cold water – 2 cups
For Chocolate frosting
Ingredients
• Butter  ¼ cup/ 4 tbsp (kept out overnight)
• Carob powder 1/3 cup.
• Water  1/6  cup.(for non vegans- can substitute with milk)
• Powdered sugar 1 ½  cup.
• Vanilla essence ½ tsp
Preparation
1. Preheat oven to 350 F
2. Mix and sieve the dry powders like the flour, carob, salt and soda.
3. Mix Oil and sugar. Add vanilla, vinegar, and cold water. Batter will be watery.
4. Bake at 350 F for 35-40 minutes or till the toothpick inserted in the center of the cake comes out dry.
For Chocolate frosting
Preparation
1. Melt butter on very low flame.
2. Add carob powder.
3. Add powdered sugar, vanilla essence, and water.
4. Beat till soft and creamy.
5. Can increase the water content by few drops if so desired to make it a spreadable consistency.
For Vasudevas Body
1. The face, arms and the basket was made by shaping dough made with all purpose flour, sugar (2: 3/4 )and little water to make it rolling consistency- like a chapatti dough.
2. They were then fried on very sim gas till light brown.
3. The basket was shaped by putting the dough on an inverted steel cup/vati and frying it along with the vati on sim gas, till light brown. The basket comes out easily on cooling with a slight pull.
For The Snake
1. The snake was made by icing a whole banana black, and supporting it at the sides with black twizzlers. Eyes were done with red butter cream icing.
For The waves
1. The big waves of the Yamuna  river was made by icing shaped cardboard with bluish-green  buttercream icing and giving a touch of corn syrup to give that wet look and bordering it with white piping gel/white buttercream icing.
2. A round cardboard was cut in a diagonal V shape to give that big wave effect.
3. The small waves was made by lifting thick bluish green buttercream icing in a down to up motion.
A final blue edible spray was put in different places to give different shades of blue effect and lot of corn syrup was brushed on the cake to give that finishing watery shiny effect.
By Bhaktin Meena