Aate Ka Halwa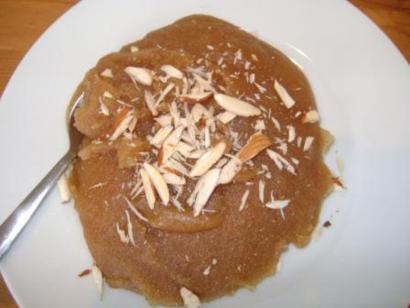 Ingredients
• Whole Wheat Flour – 1 cup
• Sugar – 1 cup
• Ghee (clarified butter) – 1/3 cup
• Chopped almonds – 3 tbsp
• Small cardamom – 1
Preparation
1. Chop almonds coarsely lengthwise and keep aside.
2. Crush cardamom to a fine powder and keep aside.
3. Boil 3 ½ cups of water on high flame and add sugar to it.
4. Let the sugar dissolve completely in water.
5. As soon as the water starts boiling turn off the heat.
6. Roast wheat flour in ghee on medium heat till its dark brown.
7. Keep stirring it constantly otherwise it will burn.
8. Add sugar water to the roasted flour slowly. Keep stirring.
9. Water will be quickly absorbed by the flour.
10. Be careful, sometimes flour and water lumps pop up a little.
11. Once it's thick, turn off the heat. Add cardamom powder.
12. Garnish with almonds and serve.
Serves
5-6 Persons
By Bhaktin Ranjana