Baked Sweet Potato with Spices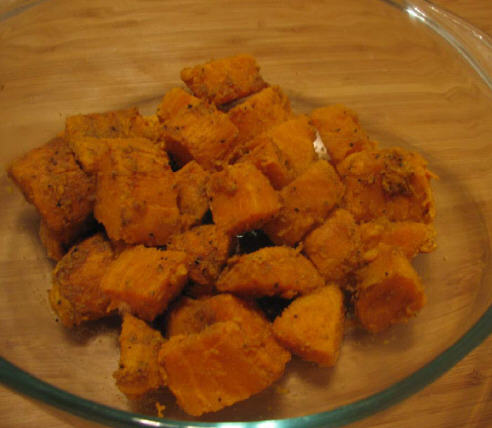 Ingredients
•2 big (500 g) sweet potatoes
•1 Tsp chat masala
•1 Tsp salt (reduce to ½ Tsp if chat masala already has salt in it)
•1½ Tsp cumin powder
•½ Tsp amchur powder
•½ Tsp yellow asafetida powder
•½ Tsp ground black pepper
•½ Tsp red chili powder
•1 Tbsp lemon juice
Preparation
1.Wash and pat dry the sweet potatoes. Place them on a baking sheet and bake in a preheated oven at 400 F/200 C for 30-40 minutes or until the skin is charred and inside is tender but firm.
2.Cool the sweet potatoes for 10 minutes and peel off the skin. Cut them in chunks.
3.In a mixing bowl, combine the sweet potatoes and all the spices and toss well. Serve hot or warm.
Serves
4
By Anand Lila Devi Dasi
---