Avocado Mousse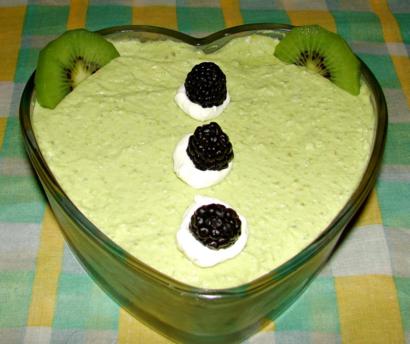 Ingredients
• Avocado – 2 large
• Cold heavy cream – 1cup
• Condensed milk – 1/3 cup
• Confectionery sugar – 3-4 tsp
• Lemon Juice – 1 whole
• Any fruit for decoration
Preparation
1. Whip cold cream with sugar till it stands in medium stiff peaks and put it back in the refrigerator.
2. Cut avocado into half, and scoop out the fleshy part from it.
3. Put it in a food processor along with lemon juice and blend it into a fine paste.
4. In a large mixing bowl combine avocado paste, whipping cream, condensed milk together.
5. Gently fold in all the ingredients and refrigerate for at least two hours.
6. Remove them in a serving glass and Serve chilled.
7. You can decorate your Avocado Mousse with cream and your favorite fruits.
Serves
3-4 Persons
By Bhaktin Mallika