Banana and pomegranate Salad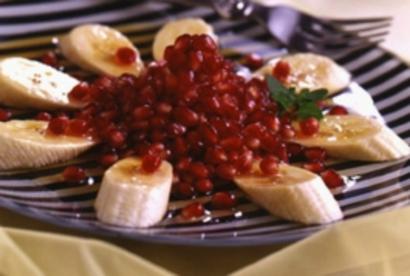 This is an appropriate year-round kachambers to serve on a buffet or salad table. I first saw it at a North Indian wedding, among numerous small salads. The smooth and sweet golden banana slices make a vivid contrast with the sharp and sweet red pomegranate seeds.
Preparation time (after assembling ingredients): 15 minutes
Ingredients
• Pomegranate – 1 medium-sized
• Firm bananas – 2 medium-sized
• Fresh lime juice – 2 table spoons (30 ml)
• Maple or date sugar – 1 table spoon (15 ml)
• Salt (optional) 0 – ¼ teaspoon (1 ml)
Preparation
1. Cut the pomegranate into quarters and twist each wedge to loosen the cells. Gently shake, tap, scoop and coax the cells onto a serving plate and arrange them in a neat mound in the center.
2. Peel the bananas and slice them on the diagonal into ¼ -inch (6 mm) rounds. Arrange them in a circle around the pomegranate cells. Sprinkle with the lime or lemon juice, sweetener and salt, if desired, and serve immediately.
Serves
4 Persons
By Yamuna Devi Dasi