Banana Oatmeal Cookies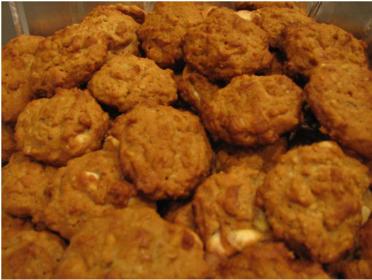 • ½ C butter, softened
• ½ C brown sugar
• 1½ Tsp egg replacer mixed with 2 Tbsp warm water
• ½ Tsp vanilla essence
• 1 C all purpose flour
• ½ Tsp baking soda
• ¼ Tsp ground cinnamon
• 1 big Bananas, mashed
• 1¼ C quick cooking oats
• ¼ C butterscotch morsels
• ½ C vanilla chips
1. In a mixing bowl, cream butter and sugar until light and fluffy. Beat in the egg
replacer and vanilla. Combine flour, baking soda and cinnamon; add to the
creamed mixture and mix well.
2. Stir in the bananas, oats, morsels and the chips.
3. Drop by rounded teaspoonfuls 2 inch apart onto greased baking sheets.
Bake in a preheated oven at 375 F/ 190 C for 10-12 minutes. Immediately
remove from baking sheets to wire racks to cool.
50 cookies
By Madhavi Devi Dasi