Basil Pesto Ricotta Cheese Pizza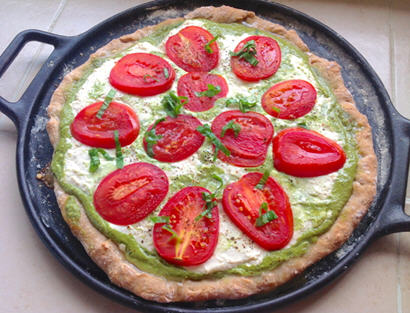 Description
Very easy to make and all homemade! This unique pizza has a yeast free thick crust that is drenched in basil pesto and fresh ricotta cheese!
Ingredients
For the crust:
• 1 cup whole wheat flour
• 1 cup all-purpose flour
• 3/4 cup of plain yogurt or buttermilk
• 1/2 tsp baking soda
• 1/2 tsp baking powder
• 1/2 tsp salt
For the pesto:
• 2 cups packed with fresh basil leaves
• 1/2 cup ricotta cheese
• 1/3 cup olive oil
• 1/2 tsp salt
• 1/4 tsp pepper
• dash of hing
• 1/4 tsp crushed red pepper flakes
• 1 tsp lemon or lime juice
Toppings:
• Ricotta cheese
• fresh sliced tomatoes
• chopped fresh basil leaves
Preparation
1. Preheat oven to 450F/232C. First we are going to make the crust. Place all the dry ingredients into a mixing bowl and mix all together until fully combined. Then add the yogurt or buttermilk and mix into a dough. If the dough is too sticky then add more flour. If it is too dry then add more yogurt until you have a nice dough.
2. Next, flour a counter surface and begin rolling out the dough to the size of your pizza pan.
3. It is best to use a pizza stone or cast iron plate. It helps to get a nice and crunchy crust on the bottom and soft on top. Flour the pizza pan with a little flour and some grainy semolina.
4. Then place the rolled out pizza dough on top of the pizza pan. Begin folding in the edge in order to form a thicker crust all around. Then take a fork and poke many holes in the center. The reason for the holes is because when we pre-cook the pizza dough, it will begin to form bubbles and we want to prevent this. Now place in the preheated oven for 10 minutes. We do not want to cook the dough fully because we are going to cook it again with all the toppings.
5. While the crust is precooking, let's make the basil pesto. Very easy, just place all the pesto ingredients into a blender.
6. Blend until smooth.
7. Now the pizza dough should be done. Again the crust should not be fully cooked yet.
8. Now pour the basil pesto on top of the pizza crust. You don't have to use all the pesto, just enough to nicely coat the crust.
9. Next top the pizza with ricotta cheese. You can use as much as you like.
10. Next slice up a couple fresh tomatoes and place on top. Then sprinkle with a little salt and pepper and you are ready to put it back in the oven. Cook for another 10 more minutes and you are done!
11. I also sprinkled some fresh chopped basil at the end as well.
12. Now you are ready to offer to Kṛṣṇa with love and devotion!
By Bhaktin Chritina