No Yeast Naan Bread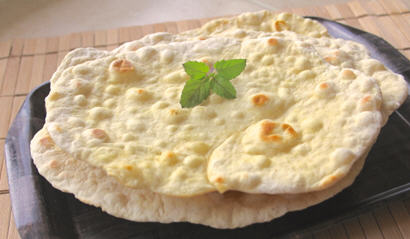 Description
No yeast Naan bread! Yes it's possible! These are nice and soft and go great with soups and curry dishes.
Ingredients
• 3 cups all purpose flour
• 1 tsp salt
• 2 tsp baking powder
• 1/2 tsp baking soda
• 1 cup plain yogurt
Method
1. First preheat the oven to 500F/260C. Place an iron cast pan or a pizza stone in the oven to be heated as well. For the bread, place all the ingredients into a mixing bowl.
2. Mix all the ingredients and knead into a dough. If the dough is too dry then add a little more yogurt until you have the right consistency. If it is too wet then add more flour.
3. Next, divide the dough into small round balls. Flour your counter surface and roll the dough out into a thin oval shape.
4. When the oven and pan are heated, place the flat bread on the pan and shut the oven door. Cook on one side for a minute and a half.
5. Then flip the bread over and cook on the other side for one and half minutes.
6. Take the naan out of the oven and immediately sprinkle ghee on top.
7. Continue this process until you have finished making all the naan.
8. I served this Naan bread with "Simple Paneer Masala". Now you are ready to Serve!
By Bhaktin Christina
Source : http://www.krsnastreats.org/recipes/breads/item/buttermilk-puris