Beetroot Laddus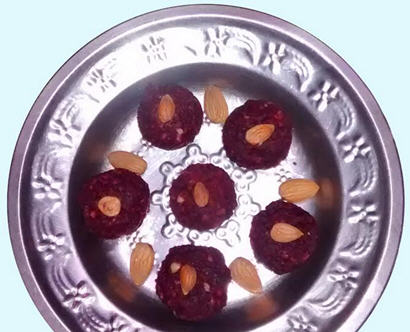 Ingredients
. 2 Grated Beetroots
. 3 Medium spoon sugar
. 3 Medium spoon crushed peanuts
. 2 spoon almond powder
. 2 spoon cashew powder
. 1 spoon cardamom powder
. 1 big spoon jaggery
. Half cup water
. Half cut almonds for garnishing
Preparation
1.Take grated beetroots in the vessel and add sugar, crushed peanuts, almond powder, cashew powder, cardamom powder & add half cup of water, & put it on low flame.
2. Stir well till the mixture soak, when the mixture soaks the water completely add jaggery in it.
3. When the jaggery melts in mixture put the gas off & keep that vessel under the fan for 3 minutes.
4. After 3 minutes rub the both hands with ghee & make the laddus & garnish with half cute almonds.
5. Laddus are ready to eat.
By Bhaktin Rachna