Home made Mawa from Milk powder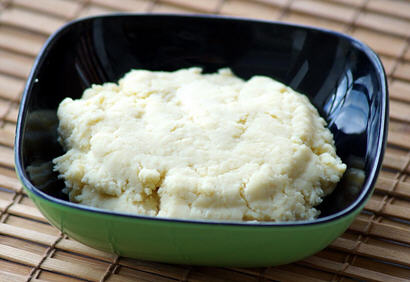 Ingredients
. 200 gm /1.5 cups Milk powder (Skimmed milk powder can also be used)
. 40 ml milk (approx. ¼ cup)
. A handkerchief or a piece of muslin
. Pressure cooker
Method
1. Mix milk powder and milk in a bowl a little at a time till you get a dough of soft consistency. Knead it a little to make it smooth.
2. Wrap a handkerchief around it and place it in a metal bowl.
3. Fill about 2-3 inches of water in a pressure cooker, place a small stand in the center and place the metal bowl on top of the stand.
4. Close the cooker with the lid, without using the whistle on top and steam for 15 minutes.
5. Open lid, take the bundle and open the handkerchief on a plate. You can see an appreciable change in color and smell of the milk powder, which resembles a Mawa. Allow to cool
6. Khoya/Mawa is now ready. Crumble it to use any way you like.
By Meena Samtani (Madhulila)