Coconut Milk Fudge Log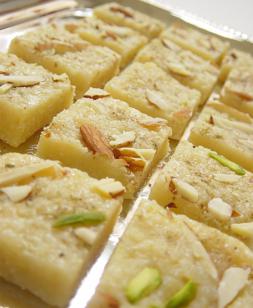 This uncooked confection is quick to assemble and power-packed with nutrition.
Preparation time (after assembling ingredients): 15 minutes

Ingredients
• Honey, rice or maple syrup – ½ cup (120 g)
• Almond, cashew or peanut butter – ½ cup (120 g)
• Finely, chopped dates – ½ cup (80 g)
• Low-fat or whole milk powder – 2/3 cup (85 g)
• Grated fresh coconut, lightly packed Or frozen coconut, defrosted – 1 ½ cups (130 g)
• Rose water or kewra water – ½ tablespoon (7 ml)

Preparation
1. Combine the sweetener, nut butter, dates and milk powder in a bowl, and using your hands, work into a soft, non-stick dough. (You may have to add additional milk powder or a sprinkle of water). Wash and dry your hands and roll the dough into a log about 20 inches (50 cm) long.
2. Place the coconut on a large square of waxed paper, sprinkle with the rose or kewra water and toss to mix. Cut the log in half and roll each half in the coconut to cover well. Slice each log into 10 pieces and place them in candy cases, if desired. This confection keeps well for up to 7 days. Keep refrigerated, well covered in an airtight container. Bring to room temperature before serving.

Makes:
24 pieces

By Yamuna Devi Dasi