Bengali Spinach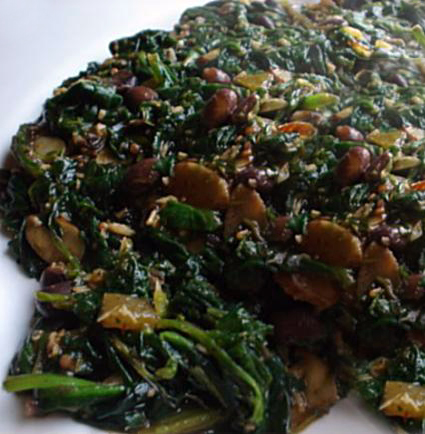 Srila Prabhupada encouraged me to observe cooking techniques from the expert chefs at the C.L. Bajoria household in Calcutta. On one occasional visit, I arrived just after Mr. Bajoria had returned from his hill station resort and jute plantations in Bihar. He had brought back kilos of hand picked raw almonds. Each was encased in a soft, greenish skin with a texture somewhere between those of crisp apples and water chestnuts. They were served at breakfast as nibblers, accompanied by several varieties of seasonal fruit. For the evening meal, the ingenious cooks chose to contrast the crisp almonds with stir-fried spinach. As an alternative to almonds, try peanuts or pistachios.
Preparation and nut soaking time: at least 4 hours
Cooking time: 25 minutes
Ingredients
• Raw almonds, peanuts or pistachios, with skins – 2/3 cup (100 g)
• Warm water – 2 cups (480 ml)
• Ghee or sesame oil – 3 table spoons (45 ml)
• Black mustard seeds – 1 teaspoon (5 ml)
• Cumin seeds – ½ teaspoon (2 ml)
• Fenugreek seeds – 1/8 teaspoon (0.5 ml)
• Jaggery or dark brown sugar – 1 ½ table spoons (22 ml)
• Scraped, fined shredded or minced fresh ginger root – ½ table spoon (7 ml)
• Seeded and minced hot green chilies – 1 teaspoon (5 ml)
• Fresh spinach, trimmed, washed and coarsely chopped, or two 10-ounce (570 g) packages frozen chopped spinach, defrosted and pressed dry – 2 pounds (1 kg)
• Freshly shredded coconut, lightly packed – 1/3 cup (35 g)
• Salt – 1 teaspoon (5 ml)
• Heavy cream – 2 table spoons (30 ml)
• Freshly ground nutmeg – 1/8 teaspoon (0.5 ml)
• Butter and lemon twists for garnishing
Preparation
1. Soak the nuts in warm water for 4 hours or overnight. Drain and slip off the loose skins. Wash in fresh water, then drain.
2. Heat the ghee or oil in a 5-quart/liter nonstick pan over moderate heat. When it is hot but not smoking, add the ginger, chilies, spinach, nuts, coconut and salt, cover, reduce the heat to low, and cook for 10 minutes. Uncover and turn the spinach over with two forks, so that the cooked leaves on the bottom change places with those on the top. Add water if necessary, and cook for another 10 minutes.
3. Stir in the cream and nutmeg and heat for 1-2 minutes. Serve immediately. Garnish each serving with a pat of butter and a lemon twist.
Serves:
4 or 5

By Yamuna Devi Dasi