Buttermilk Soda Bread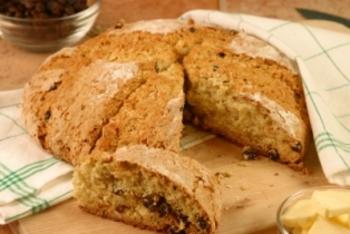 Ingredients:
• Unbleached plain flour – 2 cups, about 300g (11 ounces)
• Wholemeal (whole wheat) plain flour – 2 cups, about 300g (11 ounces)
• Cream of tartar – ½ tsp
• Bicarbonate of soda – 1 tsp
• Sea salt – 1 tsp
• Buttermilk (or some sort of cultured or sour milk) – 2 cups
• Sea salt flakes
Preparartion:
1. Preheat the oven to 220° C / 425° F. Lightly flour a baking tray. Sift the flours, cream of tartar, bicarbonate of soda and sea salt into a large bowl. Make a well in the centre of the mixture.
2. Pour in almost all the buttermilk, then stir with a wooden spoon until thoroughly combined. Feel the dough. It should be slightly sticky. If too dry, add the remaining buttermilk. Transfer the dough to a lightly floured work surface.
3. Gently knead the dough for 1 minute (do not over knead).
4. Shape the dough into a round and place on the prepared baking tray. Cut a 1.5cm (½-inch) deep cross into the dough and sprinkle with the sea salt flakes.
5. Bake in the preheated oven for 30 minutes, or until golden and cooked through (test with a wooden skewer – if it comes out clean, it's done).
6. Remove from the oven and transfer to a wire rack. Allow to cool then cover with a dampened towel until required.
7. Serve break off chunks or cut into slices.
By Kurma