Buttery Spinach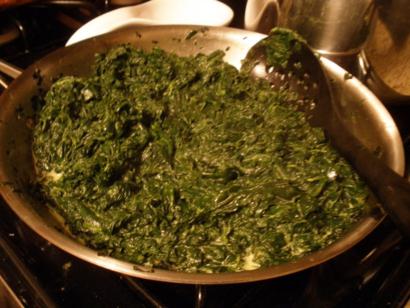 There are so many ways to season a simple sak that I find it difficult to select just one recipe to represent the possibilities. This variation could come from any region, from almost any kitchen, garnished with fried currants and cashews nuts. In Punjab and Gujarat, sak is routinely accompanied with corn dishes.
Preparation time (after assembling ingredients): a few minutes
Cooking time: 15 minutes
Ingredients
• Fresh spinach, trimmed and washed – 2 pounds (1 kg)
• Ghee or unsalted butter – 5 table spoons (75 ml)
• Hot green chilies, cored, seeded and silvered – 1-2
• Fresh ginger root, scraped and cut into thin julienne – 1 ½ -inch (4 cm) piece
• Whole cloves, crushed – 2
• Salt – 1 teaspoon (5 ml)
• Raw cashew bits – ¼ cup (35 g)
• Dried currants, soaked in warm water for 30 minutes, drained and dried on paper towels – 1/3 cup (45 g)
• Garam masala – ½ teaspoon (2 ml)
• Few butter pats (optional)
• Lemon or lime twists (optional)

Preparation
1. Plunge the spinach into a large pot of salted boiling water. Cook for 8 minutes. Drain in a colander, pressing firmly with the back of a spoon to extract as much water as possible. Coarsely chop.
2. Melt 2 ½ table spoons (37 ml) of the ghee or butter in a wide heavy casserole or sauté pan over moderate heat. Add the green chilies, ginger, cloves and spice seeds, and fry for about 1 minute. Stir in the spinach and salt and heat through. Cover and set aside.
3. Heat the remaining 2 ½ table spoons (37 ml) of ghee or butter in a small saucepan over moderately low heat. Toss in the cashew bits and fry, stirring constantly, until they begin to color. Add the currants and continue to fry until they plump and brown. Remove the pan from the heat. Stir in the Garam masala then pour the contents over the spinach. Finish with an additional pat of butter and lemon or lime twists, if desired.

Serves
4

By Yamuna Devi Dasi