Green Bean and Paneer Stir-fry with a Spicy Peanut Sauce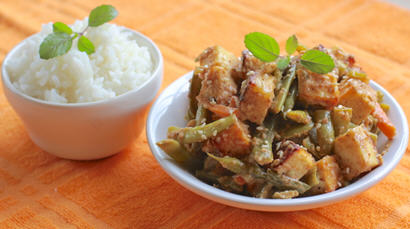 Description
Vegetarian Thai style! The peanuts compliment this dish amazingly!!
Ingredients
• Stir-Fry
• 2 cups fresh made paneer
• 2 cups green beans
• 1 large carrot
• 2 tbsp ghee
• 1 chopped green chile
• 1 tsp chopped fresh ginger
• 1 tsp salt, and pepper to taste
• dash hing
• 1/2 tsp chili powder
• 1 tsp brown sugar
• 1/2 tsp sesame seeds
Spicy Peanut Sauce
• 1 cup raw peanuts
• 2-3 dried red chile
• 1 tbsp tamarind pulp
• 1 tsp salt
• dash hing
• water
Preparation
1. First chop up the green beans and carrots.
2. Next steam cook the veggies until they are just a little crisp, about 10 minutes.
3. After 10 minutes take them out of the steamer and run cold water over them. This helps to stop the cooking process. Then set aside.
4. Next we will prepare the Spicy Peanut Sauce. You will need a walnut sized piece of tamarind.
5. Soak the tamarind in hot water for 10 minutes.
6. Then squeeze the tamarind between your fingers. You will notice all the flesh becomes smooth.
7. Now drain the tamarind liquid through a colander and set the liquid aside.
8. In a frying pan, fry the whole peanuts and dried red chile on medium flame being sure to stir constantly.
9. When the peanuts start to crack and split and a nice aroma starts to appear, turn the flame off and let the peanuts cool down.
10. Then place them in a food processor along with the tamarind liquid and remaining spices. Blend well and add water as needed for the right consistency.
11. It should not be too liquid nor too thick.
12. Next chop up the paneer into bite sized cubes.
13. Then in a large wok or frying pan heat up the ghee on medium high flame and then add the green chile and ginger.
14. Fry for about a minute and then add the cubed paneer.
15. Cook until the paneer turns a golden color.
16. Then add the steamed vegetables and all the remaining spices. Cook for about 5 more minutes being sure to stir constantly. Then turn off the flame.
17. Now pour in the spicy peanut sauce over the veggies and stir it all up.
18. For a more juicy sauce you can add more water and a little bit of salt if it is too dry for your taste.
19. Serve with rice. Now you are ready to Serve!
By Bhaktin Christina