Sweet and sour veggie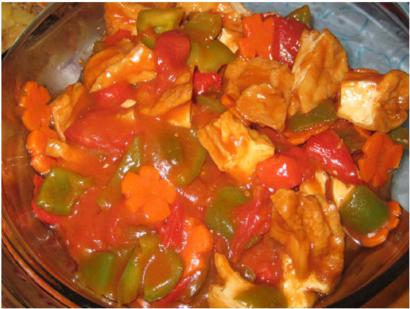 Ingredients
•1 package of deep fried tofu*
•1 green pepper, chopped
•1 red pepper, chopped
•4 tomatoes, chopped
•1/2 cup carrot, chopped
•1 ½ tsp salt
•1 tsp brown sugar, optional
•2 tbsp oil
•1 tbsp corn starch
•2 tbsp water
Preparation
1.This is the most traditional way of making sweet and sour vegetables, without pineapples.
2.Heat 2 tbsp of oil in the pan. Cook carrots and peppers for 3 minutes then add tomatoes and cook for another 5 minutes. Add tofu and seasoning, and cook for another 5 minutes. Turn the heat to low and add the corn starch mixture (corn starch + cold water). Cook for another 1 to 2 minutes.
3.* Fried tofu looks like fried paneer and can be found easily in most oriental stores. Or you can deep fry firm tofu (cut into cubes first).
Serves
4-6
By Madhavi Devi Dasi