Paneer Kolhapuri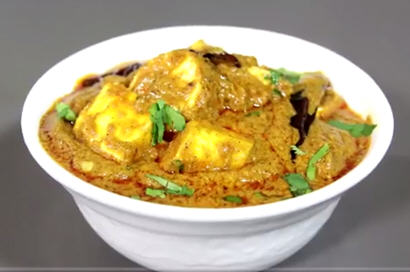 Ingredients
. Cottage Cheese – 250 gms
. Tomatoes – 4 (250gms)
. Green Chillies – 2
. Ginger – 1 inch
. Cashew nuts – 1/4 cup
. Dry grated Coconut – 1/3 cup
. Oil – 2-3 tbsp
. Green Coriander – 2-3 tbsp
. Sesame – 2 tsp
. Cumin Seeds – 1.5 tsp
. Fennel Seeds – 1 tsp
. Garam Masala – 1 inch cinnamon, 1 Black Cardamom, 2 Cardamom, 4 Cloves, 8-10 Black pepper
. Red Chilly – 2
. Salt – 1 tsp
. Red Chilly Powder – 1/2 tsp
. Turmeric Powder – 1/4 tsp
. Asafoetida – 1 pinch
. Coriander Powder – 1 tsp
Preparation
1. First grind tomatoes, green chilli, Cashews and ginger and make a fine paste then we will make kohlapuri masala.
2. Switch on the gas, Put the sesame seeds into the pan dry roast the sesame seeds also add little cumin seeds save the remaining quantity for tempering.
3. Add fennel seeds, cinnamon stick, cloves, black pepper peel off the green cardamom and black cardamom continuesly saute all the spices on low flame add grated dry coconut saute all the spices again till the color changes.
4. Switch off the gas take out the spices in a plate to cool down, then grind it.
5. For making vegetable heat the pan heat oil in it add cumin seeds, asafoetida, turmeric powder, coriander powder and saute it also put whole red chillies now add the paste of tomato, green chilly, cashew nuts, ginger saute all the spices once the paste starts leaving oil.
6. Cut cottage cheese and keep it ready cut it into small squares of 1×1.
7. Add red chilly powder to the masala also add the grounded roasted masala of coconut, seasame seedsand cumin seeds saute for 2 mins now add 1/2 cup of water to it, let this cook or a while.
8. Now add salt and coriander leaves mix it nicely, add cubes of cottage cheese and mix it properly.
9. Cover the pan let it cook for 2-3 mins on a medium flame.
10. Paneer kolhapuri is ready, take it out in a bowl and Enjoy with rice, puri, parathas, roti.
By Bhaktin Archana