Cabbage chana dal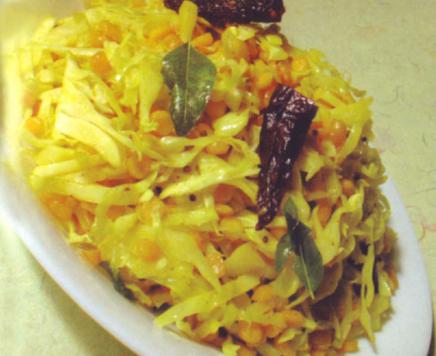 •
Cabbage…………………………………. 1 medium sized
•
Bengal gram split (chana dal)…………… ¼ cup
•
Ginger……………………………………1 inch piece
•
Curry leaves………………………………10-12
•
Oil………… ……………………………2 tbsp
•
Mustard seeds…………………………….. 1 tsp
•
Red chilies whole………………………… 4
•
Turmeric powder…………………………. ½ tsp
•
Salt………………………………………… to taste
•
Garam masala powder……………………. 1 tsp
•
Coconut (scraped)…………………………2 tbsp
1.Clean, wash and soak chana dal in one cup of water for half an hour. Drain and boil chana dal in approximately one cup of water
till just done. Drain and keep aside.
2.Wash, drain, remove core and shred cabbage. Peel, wash and chop ginger finely. Wash and pat dry curry leaves.
3.Heat oil. Add mustard seeds, curry leaves and whole red chilies. When the seeds crackle add ginger. Sauté for a minute.
4.Add cabbage and cook until soft. Add turmeric powder and salt and mix. Add boiled chana dal and mix well. Let it cook for two minutes. Add garam masala powder and mix.
5.Garnish with scraped coconut and serve hot.
By Vaidehi