Carrot Jalapeno and Paneer Soft Tacos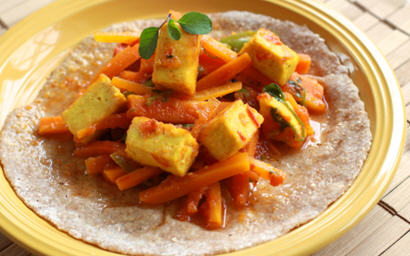 Description
Best Sattvic soft tacos! Easy to make and a favorite dish in my house!
Ingredients
• 1/2 pound freshly prepared pressed paneer
• 6 fresh tomatoes
• 2 green chile
• 3 jalapenos
• 4 carrots
• 4 tbsp ghee
• 1 tsp mustard seeds
• 1/2 tsp turmeric
• 1/2 tsp dried ginger
• 1/2 tsp cayenne pepper
• 2 tsp salt
• 1/4 tsp pepper
• 1 tsp sugar
• 10 homemade chapatis or tortillas
Method
1. First we are going to fry the paneer in ghee. Chop up your freshly made pressed paneer into bite sized pieces.
2. Heat up 2 tbsp ghee in a pan on medium high heat. Add the cubed paneer and fry until golden brown on all sides.
3. Then place on a paper towel to drain excess oil and set aside.
4. Place all tomatoes and chiles in the blender.
5. Blend until smooth.
6. Next chop up the carrots and jalapenos. Make sure that you cut out the seeds of all jalapeno or the tacos will be really spicy. We just want the flavor of the jalapeno and a little spice.
7. Chop the carrots.
8. In a large pot heat up 2 tbsp ghee. Add the mustard seeds.
9. When the mustard seeds start to pop add the chopped carrots and jalapenos and cook for a few minutes.
10. Then add the tomato sauce and remaining spices. Cook for about 4 minutes.
11. Then add the fried paneer cubes.
12. Cook for another 8 minutes until the carrots and tomato sauce are fully cooked.
13. After 8 minutes. Turn off the flame and add freshly chopped cilantro/coriander and stir it all up.
14. Serve on a soft chapati or flour tortilla. Now you are ready to serve!
By Bhaktin Christina