Nankhatai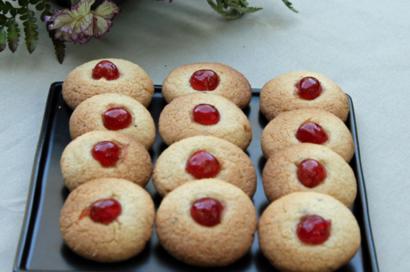 Ingredients
• Sugar – 150 gms
• Butter – 150 gms
• Fine semolina – 100 gms
• Yellow food color, optional – 1 pinch
• Plain flour – 220 gms
• Cardamom, ground – ½ tsp
• Baking powder – ½ tsp
• Cherries, to decorate – 13 glace
Preparation
1. Heat the oven at 180 C.
2. Beat the sugar and the butter together until creamy.
3. Add the semolina, mix well.
4. Mix the all purpose flour, cardamom, and baking powder.
5. Shape the dough into small balls, about 3 centimeters in diameter each.
6. Flatten each ball slightly with palm and place them on a greased tray.
7. Cut the glace cherries in half and place it in the centre of each flatten ball.
8. Bake them for 15–17 minutes until golden brown and cool on a wire rack.
9. Nankhatai is ready to serve.
Serves
5-6 Persons
By Bhaktin Shanti