Vegan Carrot Cake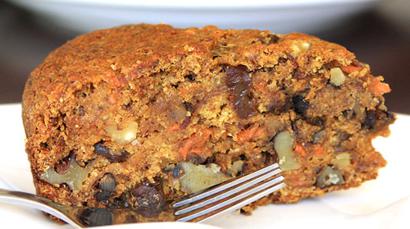 Ingredients
• Whole Wheat Flour – 2 cups
• Baking Soda – 1 tsp
• Salt – ¼ tsp
• Chopped Dates – 1 and ¼ cups
• Raisins – 1 cup
• Water – 1 and ¼ cups
• All spice Powder – 1 tsp
• Shredded Carrots – 1 cup
• Chopped Walnuts – 1 cup
• Carrot Juice – 1/3 cup
Preparation
1. Preheat oven for 15 minutes at 375F/190C.
2. Lightly grease and line an 8 or 9 inch cake pan.
3. Mix together the flour, baking soda and baking powder and salt; set aside.
4. In a big saucepan, combine together the water, dates, raisins and allspice powder.
5. Bring to a boil, reduce heat and boil for further 5 minutes.
6. Place the grated carrots in a large bowl.
7. Pour the hot liquid mixture on top of it and let it cool completely.
8. Once it is cool add the chopped walnuts and carrot juice to it; mix it well.
9. Add the dry ingredients to the wet ingredients and stir well together.
10. Pour the batter in the prepared pan and bake for 45 minutes or until a toothpick inserted in the center of the cake comes out clean.
11. If you have lined the cake pan with parchment paper you will be able to remove the cake after 20 minutes.
12. And if you have just greased the pan, it might take a couple of hours before you could remove the cake from the pan without breaking.
Serves
4-5 Persons
By Bhaktin Malathy