Potato Salad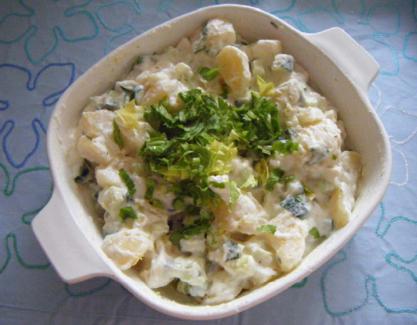 Ingredients
•4 medium size potatoes, cubes (1 inch big)
•½ cup English cucumber, small cubed
•½ cup celery, small cubed
•3 tbsp chopped basil
•1 tsp chopped celery leaves
•1 tsp lemon zest
•½ cup yogurt
•½ cup sour cream
•1 tsp brown sugar
•1 tsp salt
•½ tsp black pepper
Dash of hing
Preparation
Cook potatoes in the pot for 15 minutes. Drain and let it cool.
Mix basil, lemon zest, cucumber, potatoes, and celery in a bowl.
Add black pepper, salt, hing, sugar, yogurt, and sour cream.
Sprinkle celery leaves on top.
Wrap the bowl and leave it in the refrigerator for a few hours before serving.
*This dish is to serve cold.
Serves
6
By Madhavi Devi Dasi