Cauliflower and Peas Curry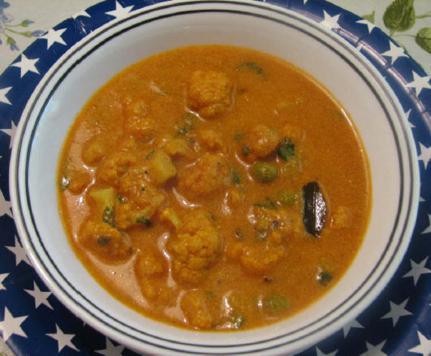 •
¼ Tsp yellow asafetida powder
•
¼ Tsp red chili powder/paprika
•
1 medium sized cauliflower, cut into flowerets
•
1 C fresh or frozen peas
•
2 Tbsp chopped coriander leaves
1.Heat ghee/oil in a saucepan over moderate heat, drop the spices and stir-fry for a while. Sprinkle asafetida and add the curry leaves.
2.Add the tomato puree, brown sugar, ground coriander, salt, chili and turmeric. Stir the spices well and cook partially covered
over low heat until ghee/oil comes on top of the tomato-spice mixture.
3.Add the cauliflower, peas and water. Cook covered until the cauliflower is tender.
4.In a small bowl, whisk the yogurt until smooth. Stir in the yogurt and add the coriander leaves to the cauliflower curry and
remove the saucepan from heat. Serve hot with chapatis.
4-5
By Anand Lila Devi Dasi