Red Hot Potatoes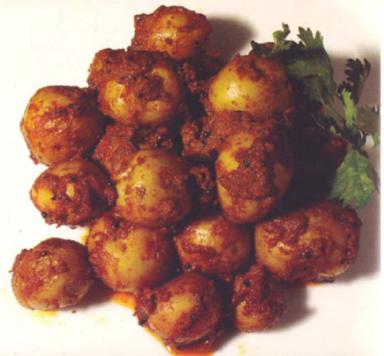 Ingredients
•Baby potatoes……………………. ¼ kg
•Kashmiri red chili powder………. 2 tsp
•Turmeric powder…………………. ½ tsp
•Coriander powder…………………1 tsp
•Cumin powder……………………. 1 tsp
•Fresh coriander leaves…………….. A few sprigs
•Oil…………………………………. 2 tsp
•Mustard seeds………………………½ tsp
•Salt…………………………………. To taste
•Tamarind……………………………2 tbsp
Preparation
1.Wash baby potatoes well. Do not peel.
2.Blend together Kashmiri red chili powder, turmeric powder, coriander powder and cumin powder with two or three tablespoons of water to make a smooth paste. Clean, wash and chop coriander leaves.
3.Heat oil in a pan, add mustard seeds. When they crackle, add potatoes, salt to taste and half a cup of water. Cover and cook till potatoes are half done.
4.Stir in masala paste. Cover and cook till potatoes are completely cooked.
5.Add coriander leaves and mix well.
6.Add tamarind and cook on low heat for ten minutes. Serve hot.
By Vaidehi