Doodhi Halwa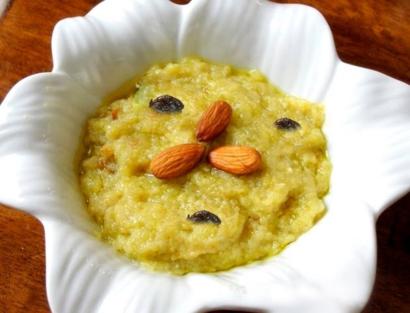 Ingredients
• Doodhi (Bottlegaurd) – 1 kg
• Milk – 1 ½ liter
• Sugar – 400-500 gms
• Elaichi powder (cardamom)
• Saffron(kesar) – 5
• Ghee – 1 tbsp
• Cashew and raisins – 10 each
Preparation
1. Peel and grate doodhi in a big plate. Heat a heavy saucepan and add milk and grated doodhi to it.
2. Stir occasionally till the mixture is thick.
3. Once it starts thickening, stir continuously. Do not let it burn.
4. Add sugar and cook further till it thickens and turn the gas on low flame.
5. Add ghee, elaichi and saffron.
6. Stir till the mixture collects in a soft ball or the ghee oozes out.
7. Serve hot, decorated with cashew and raisins.
Serves
5-6 Persons
By Bhaktin Pooja