Carrots beans and zucchini mix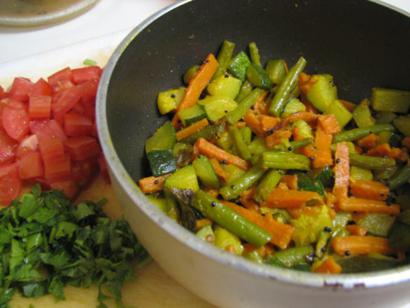 Ingredients
•Carrots, cut into 1.5 inch strips………………………………………..1C
•Green beans, cut in 1.5 inch lengths……………………………….. 1 C
•Zucchinis (or any other squash), cut in 2cmcubes…………….. 2 C
•Ghee/oil………………………………………………………………………2Tbsp
•Black mustard seeds………………………………………………………1 Tsp
•Fresh curry leaves………………………………………………………….8-9
•Green chilies,minced……………………………………………………..2
•Turmeric powder……………………………………………………………½ Tsp
•Coriander powder………………………………………………………….1Tsp
•Salt………………………………………………………………………………1Tsp
Preparation
1)Heat ghee/oil in a pan over moderate heat.When ghee is hot, add mustard seeds. When themustard seeds crackle, add the curry leaves and green chilies,saute for a while. Add the carrots and beans and stir-fry for 5minutes.
2)Add the zucchinis, turmeric and corianderpowder and stir momentarily. Simmer and cover untilthe
vegetables are tender. Add the salt andcook uncovered for 2-3 minutes. Take off from theheat
source and serve hot.
Serves
5-6
By Anand Lila Devi Dasi