Channar Payesh with Milkmaid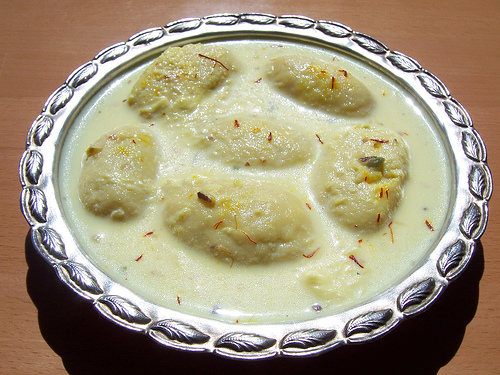 Ingredients
• Chena (fresh, not pressed, cottage cheese) – 550 gms
• Baking powder – ½ teaspoon
• Water – 6 ½ cups
• Sugar – 2 ½ cup
• Refined flour (Maida) – 3 ½ tbsp
• Milk – 6 cups
For garnish
• Cardamom – ½ tsp
• Pistachio – 4 tsp
• Saffron – ½ tsp
Preparation
1. Squeeze out water from Chena then mix and mash it in baking powder.
2. Roll into 4-5 cm long / round dumplings.
3. Take a pan, boil water in it, add 2 cups sugar and cook till it comes to single thread consistency.
4. Add Chena dumplings into the syrup and cook for 20 minutes on low to medium heat until they start floating on the surface.
5. Remove Chena dumplings from the syrup, put it into the cold water and keep aside.
6. Boil milk on medium heat and keep stirring continuously till it is reduced to half.
7. Remove the milk from heat and cool for 5 minutes.
8. Stir once or twice for cooling.
9. Add cardamom powder and remaining ½ cup sugar. Mix well.
10. Squeeze the water from Chena dumpling and add to the thickened milk.
11. Keep in refrigerator till chilled.
12. Serve chilled, garnished with pistachio and drizzled with saffron.
Serves
5-6 Persons
By Bhaktin Pooja