Chapati Rolls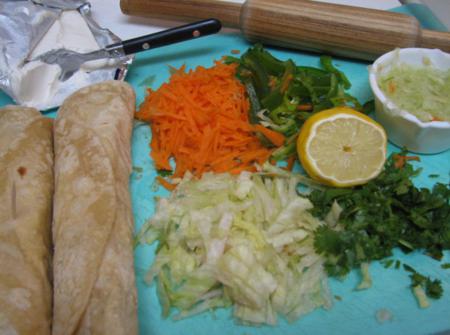 •
½ C bell pepper, cut lengthwise
•
1 C lettuce, thinly sliced
•
½ C cucumber, peeled and shredded
•
½ Tsp ground black pepper
•
½ Tsp yellow asafetida powder
•
5 Tbsp cream cheese, softened
1. In a mixing bowl, combine the first 5 ingredients. Divide into 5 parts.
2. In another small bowl, combine the lemon juice, salt, pepper, paprika,asafetida and oil.
3. Working with one chapati at a time, smear 1 Tbsp of cream cheese over it.
4.Spread 1/5th of the dressing prepared and then lay one portion of the vegetables on the center of the chapati. Roll the chapatti and insert a toothpick to hold. Repeat the same for the remaining chapatis.
5.** You may use any left over chapattis you have in hand or make fresh ones. For this recipe, the chapatis needn't have ghee/butter on them as cream cheese is used.
6.** This recipe can be made with whatever raw vegetables you would like to have in your Rolls and also they are very quick to prepare.
5 Rolls
By Anand Lila Devi Dasi