Cheesy Bean Enchiladas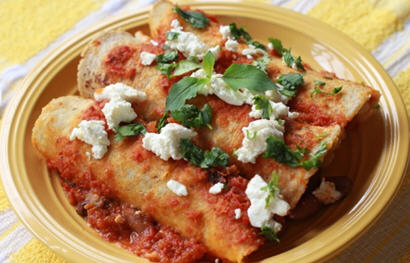 Ingredients
• 1 1/2 cup cooked beans
• 1 1/2 cup cheese of your choice
• 8 tomatoes
• 4 chilies
• 2 tablespoon lemon or lime juice
• 3 chipotle or dried chilies
• 3 tablespoons ghee
• 2 teaspoon sugar
• 1/4 teaspoon hing
• 1/2 teaspoon cayenne pepper
• 1/3 cup cilantro
• 10 corn tortillas
Preparation
1. I used a mix of white beans and black. I like to mix things up a bit.
2. Add water to one inch above the beans in a pressure cooker and cook for 15-20 minutes.
3. Ok, I know that unless you live in Mexico you cannot find this fresh corn dough. But no worries, just use any corn tortillas you have. I will still show you the authentic way to make corn tortillas.
4. I use a tortilla masher with some plastic wrap to prevent the dough from sticking. Just roll a small piece of dough in the center of the press and press once! You have a tortilla!
5. Tortillas on the hot pans!
6. Ahhh, fresh corn tortillas are ready!
7. Now time to make the sauce. Take all your ingredients and place in a blender.
8. Blend it up until it is a smooth sauce.
9. Now add ghee to the pot and then immediately the raw tomato sauce.
10. Add your spices and cook for about 10 minutes until the tomatoes are fully cooked.
11. Place one cup of sauce on the bottom of your baking dish.
12. Place another cup of sauce in a separate bowl and dip a tortilla inside until fully coated with sauce.
13. Now you are ready to build the Enchilada. Place some beans, cheese and chili inside and roll up. *You can add more cheese, I was just running low.
14. Now place the Enchilada seam down in the baking dish.
15. Continue until ingredients run out.
16. Now pour your remaining sauce over the Enchiladas and bake!
17. When you take them out of the oven after 15 minutes you can top them with more cheese and some fresh cilantro.
Tip: I also served an extra side of tomato sauce to smother them even more.
18. Now your ready to serve!!
By Bhaktin Christina
Source: http://www.krsnastreats.org/recipes/entrees/item/cheesy-bean-enchiladas