Chickoo Burfi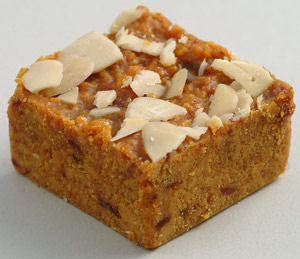 Ingredients
• Chickoos – 6
• Sugar – 1 ½
• Cardamom powder – 6-7
• Ricotta cheese – 150 gms
• Ghee – 1 tbsp
• Crushed Charoli – 2 tbsp
• Cashew nuts(chopped) – 2-3 tbsp
Preparation
1. Peel and chop the chickoos.
2. Roast in a frying pan and add ghee.
3. Roast on low heat until it becomes like a lump.
4. Add sugar. When sugar dissolves add ricotta cheese, cardamom powder.
5. Cook until it thickens and spread in a pan.
6. Decorate with crushed charoli.
7. Let it cool and then cut into the pieces.
Serves
2 Persons
By Bhaktin Archana