Chickpea Relish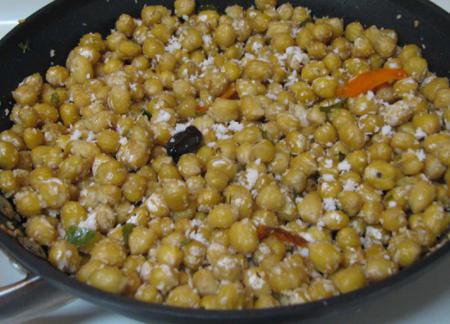 •1½ C dried Chickpeas
•5-8 C water
•2 Tsp salt
•1 Tbsp oil
•1 Tsp black mustard seeds
•1 Tsp split urad dal
•1 dry red chili
•1 fresh red/green chili, cut in half
•8-9 fresh curry leaves
•½ Tsp yellow asafetida powder
•¼ C grated fresh coconut
•½ Tsp sugar
•2 Tbsp chopped fresh coriander leaves
•2 Tsp fresh lemon juice
1.Wash and rinse the chickpeas in water and soak them in water for 6-8 hours.
2.In a saucepan combine the chickpeas, 8 cups of water and 1 Tsp salt. Bring to a boil and cook covered over medium heat for 1 hour or until the chickpeas are soft but not broken. Alternately you may pressure cook the chickpeas with 5 cups of water. Drain the chickpeas.
3.Heat oil in a pan over moderately high heat. Add the mustard seeds. When they splutter, add urad dal, chilies, curry leaves and asafetida. Saute the spices for 1 minute. Add the drained chickpeas and the remaining salt. Stir fry the ingredients to completely mix well. Reduce the heat to low and cook covered for 15-20 minutes, while stirring occasionally to ensure the chickpeas don't stick to the bottom of the pan.
4.Add the coconut, sugar and coriander leaves. Mix well and cook for another 5 minutes. Add lemon juice and serve.
5. This is a traditional recipe of South India called as "Sundal" often made during Dussehra time, practically in most of the homes.
4-5
By Anand Lila Devi Dasi