Zesty Grape Juice Cooler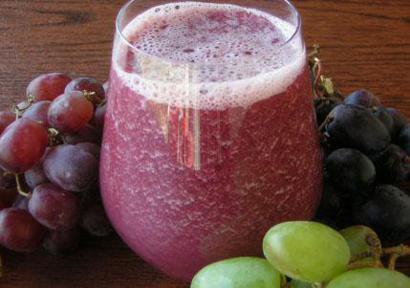 Homemade juices are more pure and fresh in flavor than their store-bought counterparts. Concord, emperor and cardinal red-purple grapes yield outstanding juice. Even if you do not have a juicer, it is relatively easy to pass the fruit through the fine disk of a food mill or simply puree it and press it through a fine sieve. Both methods produce a juice puree that takes well to the addition of sparkling water.
Preparation time (after assembling ingredients): 20 minutes
Ingredients
• Orange zest – ½ * 3-inch (1.5 * 7.5 cm) piece
• Cardamom seeds – ¼ teaspoon (1 ml)
• Whole cloves – 4
• Grape juice – 6 cups (1.5 liters)
• Honey or maple syrup (optional) -¼ cup (60 ml)
• Cinnamon stick – 3-inch (7.5 cm) piece
• Sparkling water – 2 cups (480 ml)

Preparation
1. Tie the zest, cardamom seeds and cloves in a small piece of cheesecloth. Place the juice and optional honey or maple syrup in a large enamel or stainless steel pan and bring to near the boiling point over moderate heat.
2. Remove the pan from the heat, add the spice bag and cinnamon stick, cover, and set aside until the juice has cooled to tepid. Remove the spice bag and cinnamon stick and chill. Add the sparkling water before serving.

Makes
2 quarts/liters

By Yamuna Devi Dasi