Chutney Chawal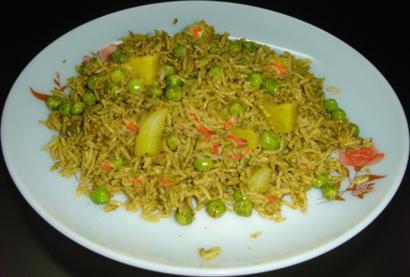 Ingredients
• Basmati Rice – 1 cup
• Potatoes – 2 (Peeled and Diced)
• Tomatoes – 2 or 3 medium sized
• Turmeric powder – ¼ tsp
• Cooked Peas – ¼ cup
• Coriander powder – ½ tsp
• Garam masala powder – ½ tsp
• Salt – as required
• Oil – 2 ½  tbsp
Grind Together
• Mint leaves – ½  bunch
• Coriander leaves – ½  bunch
• Green chilies – 3
• (Grind into fine paste sprinkling very little water)
Variation
• Fry mint leaves in little oil and add little coconut while grinding it.
Preparation
1. Wash and soak rice for l5 minutes.
2. Dice tomatoes, as small as possible.
3. Peel and dice potatoes into big pieces.
4. Heat oil in a heavy bottomed vessel and fry ginger paste.
5. Fry till light brown. Add tomatoes and cook till soft.
6. Mix potatoes and fry for another few minutes.
7. Add salt, chilly-powder, garam masala and ground paste.
8. Fry for a minute and then add two cups of water and salt.
9. When it starts boiling add rice and mix well.
10. Reduce flame and close with a tight lid.
11. Keep a weight on top. Cook exactly for 20 minutes.
12. Check whether water is absorbed and serve hot.
Serves
2 Persons
By Bhaktin Shanti