Coconut and Banana Yogurt Cheese No-Bake Pie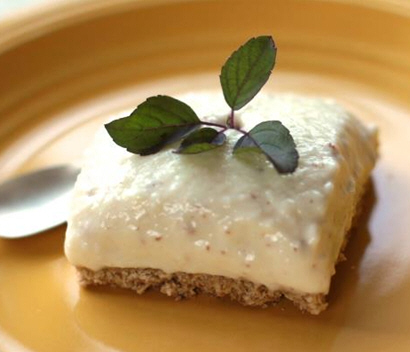 Ingredients
For the filling:
• 1 1/2 cup yogurt cheese
• 1 1/2 cup whipped cream
• 1 banana
• 1/2 fresh raw coconut, shredded
• 1/4 teaspoon cardamom
For the pie crust:
• 1 2/3 cup rolled oats (grounded)
• 1/4 cup brown sugar
• 1/4 teaspoon salt
• 1/3 cup melted butter or ghee
Preparation
1. First prepare the pie crust by grinding up the oats in a blender or spice grinder until you have a flour. Then place all the ingredients for the pie crust, including the oat flour, into a bowl and mix with your hand until everything is incorporated. Then press into an 8×8 baking dish and bake at 400 Fahrenheit/ 200 Celsius for 10 minutes or until the sides begin to turn golden brown. Then set outside to cool.
2. Next prepare your pie filling by adding all the ingredients into a large mixing bowl and mix with a hand blender. When all is smooth, pour onto the pie crust. Place in the fridge for 4 hours or better over night for better results. Now you are ready to offer to Krishna with love!

By Bhaktin Christina