Coconut Rice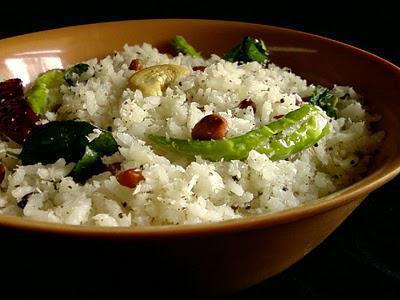 Ingredients
• Rice (Sona masoori or Basmati) (uncooked) – 1 cup
• Coconut (grated) – 1 ½ cup
• Mustard seeds – ½ tsp
• Urad dal – ½ tsp
• Cumin seeds – ½ tsp
• Chana dal (kadalai paruppu) – 1 ½ tsp
• Peanuts – 2 tsp
• Cashew nuts – 10 – 12
• Red chilies – 3 (broken)
• Green Chilies (Slit length-wise) – 3
• Curry leaves – 1 or 2 sprigs
• Hing – a pinch
• Coriander leaves (Chopped) – 3 to 4 sprigs
• Salt – to taste
• Ghee or Oil – 3 to 4 tsp
Preparation
1. Cook rice with enough water and Salt and keep aside.
2. Heat ghee or oil in a pan.
3. Add Mustard seeds, Urad dal and Cumin seeds to it.
4. After the seeds starts spluttering add Chana dal, Peanuts, Cashew nuts and fry them for a minute.
5. Add Red Chilies, Green Chilies, Curry leaves and Hing, let them splutter fry till the dals turns into golden brown.
6. Add grated Coconut, Salt and fry for 3 to 4 more minutes or till the Coconut turns light-brown.
7. Add the Cooked rice and mix well.
8. Remove from heat and garnish with chopped coriander leaves.
Serves
3-4 Persons
By Bhaktin Sushma