Orange Pudding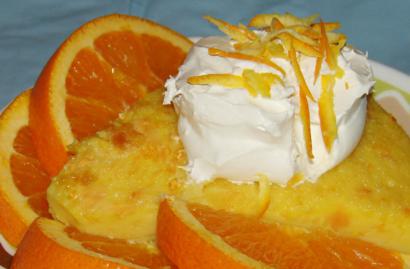 Ingredients
• Milk- 1 cup
• Egg replacer – 1 tbsp
• Butter- 2 tsp
• Sugar- ½ cup
• Orange Juice- ½ cup
• Orange zest- 3 tsp
• All purpose flour- 3 tsp
Preparation
1. In a large mixing bowl blend sugar and butter till it becomes a smooth and fluffy.
2. Add egg replacer into the sugar mixture and blend well.
3. Add orange zest and all purpose flour and blend well without lumps in it.
4. Now add orange juice and milk and blend well.
5. Beat it well after each addition of ingredients.
6. Stir and gently fold into the mixture. (Or beat with a little sugar and finally layer it on top).
7. Heat the oven to 300 Degree and place a nine inch cake pan half filled with water and lined on the bottom with a small kitchen towel.
8. Grease another dish, a smaller one that fits in and pour the mixture and gently place into the hot pan.
9. Bake till golden brown. If you wish to get it like the cake texture then add more ½ cup of flour.
Serves
2-3 Persons
By Bhaktin Archana