Corn Chivda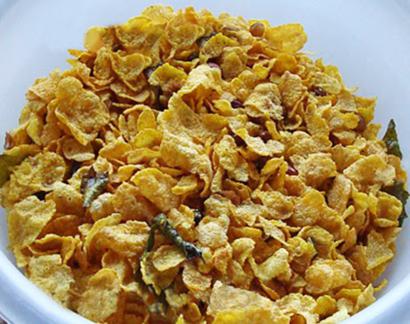 Ingredients
• Corn Flakes – 5 cups
• Raw Peanuts (Groundnuts) – ¾ cup
• Cashews (optional) – 10
• Dry Coconut Slices – 1 tbsp
• Curry Leaves – few sprigs
• Green Chilies – 6
• Mustard Seeds – ½ tsp
• Turmeric (Haldi) – ¼ tsp
• Asafetida (Hing) – ¼ tsp
• Powdered Sugar – ½ tsp
• Salt – as required
• Oil – 3 tbsp
Preparation
1. Wash green chilies and curry leaves and make them dry.
2. Heat 2 – 3 tbsp oil in a pan and fry the peanuts till they turn light brown in color. Keep them aside.
3. Fry cashews and dry coconut slices till they turn light brown.
4. Remove them from oil and keep them aside.
5. Heat the same pan; in the leftover oil, add mustard seeds, asafetida, curry leaves, chopped green chilies and turmeric together.
6. Turn off the heat when green chilies are fried.
7. Add more oil if required. Now fry corn flakes in oil till it pops and remove from oil.
8. Sprinkle Salt and powdered Sugar to the fried corn flakes.
9. Mix fried peanuts, coconuts, cashews and green chilly mixture to the corn flakes.
10. Mix the chivda well after adding all the ingredients.
11. Let it cool; after cooling, store corn flakes chivda in an air tight container.
12. Serve it as a crunchy snack.
Serves
4-5 Persons
By Bhaktin Archana