Corn Pizza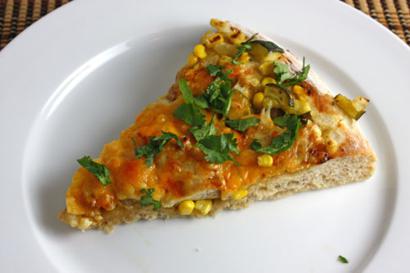 Ingredients
• Corn flour – 800 gms
• All purpose flour – 200 gms
• Ghee – 100 gms
• Yeast – 25 gms
• Powder sugar – 3 tbsp
• Salt – as required
For Preparing Sauce:
• Tomatoes – 5
• Garam masala – 1 ½ tsp
• Salt – as per taste
• Corn cobs grated – 2
• Bell pepper – 3
• Green chilies chopped – 2
• Cheese grated
Preparation
1. Dissolve yeast in lukewarm water.
2. Add corn flour, all-purpose flour and ghee and make smooth dough.
3. Keep for 15-20 minutes.
4. Knead the dough and roll out 6 inches diameter size ½ inch thick chapatis.
5. Grease the oven tray and arrange the rolled out pizza chapatis.
6. Press lightly from all sides.
7. Bake in an oven at 350F for 10 minutes.
For Preparing Sauce:
1. Sauté tomato gravy, salt, green chilies, garam masala in ghee for 2 minutes and mix well.
2. Spread on pizza. Sprinkle bell pepper and grated corn and bake for 2 minutes.
3. Sprinkle grated cheese on pizza.
4. Cut into wedges and serve hot.
Serves
5-6 Persons
By Bhaktin Sushma