Chilled yogurt Rice with Shredded Mango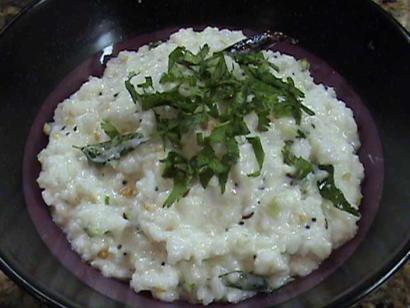 This moist, pleasantly seasoned rice and yogurt dish in the South Indian tradition takes only a short time to prepare. Whenever rice is combined with yogurt, the result is refreshing, nutritious and easy to digest. The combination may be served either chilled or at room temperature, so it fits into many different menus. This particular rice dish is a welcome favorite, especially in the summer season, when light rice is preferred.
Preparation time (after assembling ingredients): 5 minutes
Cooking time: 20 -30 minutes
Ingredients
• Basmati or other long-grain white rice – 1 cup (95 g)
• Water – 1 2/3-3 cups (400-480 ml)
• Plain yogurt or mixture of sour cream and yogurt – 1 ½ cups (360 ml)
• Salt – 1 teaspoon (5 ml)
• Ground ginger – 1 ¼ teaspoons (6 ml)
• Freshly ground black pepper – ¼ teaspoon (1 ml)
• Peeled, shredded green raw mango, firm but under ripe (cucumber or carrot can be substituted for the mango) – 2/3 cup (160 ml)
• Ghee or sesame oil – 1 ½ table spoons (22 ml)
• Split urad dal, if available – ½ table spoon (7 ml)
• Black mustard seeds – 1 teaspoon (5 ml)
• Curry leaves, preferably fresh – 6 – 8
• A few sprigs of fresh parsley or coriander for garnishing

Prepareation
1. If basmati rice is used, clean, wash, soak and drain as explained on page 4.
2. Bring the water to boil in a heavy 1 ½ -quart/liter nonstick saucepan. Stir in the rice and reduce the heat to very low. Cover and gently simmer with out stirring for 20-25 minutes or until the rice is tender and fluffy and all of the water is absorbed. Remove from the heat and let the rice sit, covered for 5 minutes to allow the fragile grains to firm up.
3. Spoon the cooked rice into a flat dish. Let cool to room temperature. Gently fold in the yogurt, salt, ginger, pepper and mango until evenly mixed.
4. Heat the ghee or oil in a small saucepan over moderate heat until it is hot but not smoking. Toss in the urad dal and mustard seeds. Fry until the dal is richly browned and the mustard seeds turn gray and sputter and pop. For the last 3- 5 seconds of frying the spices, toss in the curry leaves. Pour the fried spices into the rice and mix gently. Chill if desired.
5. Garnish each serving with parsley or coriander.

Serves
5 or 6

By Yamuna Devi Dasi