Creamed Spinach with Fresh Curd Cheese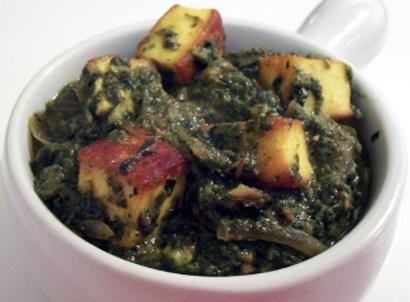 Ingredients:
• Chopped fresh ginger – 1 tsp
• Fresh hot green chili, seeded and minced – 1
• Ground coriander – 1 tsp
• Sweet paprika – ½ tsp
• Ground cumin – ½ tsp
• Turmeric – ½ tsp
• Ghee or oil – 1 tbsp
• Large bunches of spinach, washed, trimmed steamed, drained and finely chopped – 2
• Cream – 4 tbsp
• Fresh homemade curd cheese (panir) made from 2 litres milk, cut into 1.25 cm cubes
• Garam masala – ½ tsp
• Salt – 1 tsp
Preparation:
1. Combine the ginger and chili in a food processor or blender and process with a few spoons of cold water. Add the coriander, paprika, cumin, and turmeric and blend to form a smooth spice paste. Scrape the paste into a bowl.
2. Heat the ghee in a large saucepan over moderate heat. When the ghee is hot, add the spice paste , and fry it for 1 or 2 minutes or until very fragrant. Fold in the spinach, combining it with the spices.
3. Cook over moderate heat for about 5 more minutes, or until the spinach reduces a little more in volume.
4. Fold in the cream; add the cubes of panir, the garam masala, and the salt. Cook over low heat for an additional 5 minutes and serve hot.
By Kurma